Tuesday, October 5, 2010 at 10:38AM
|
in
Beauty,
Makeup,
You Can Hue It
This is a part of my "You Can Hue It" series showing brown girls that they can wear bright and fun different shades of makeup, not just neutral golds and browns.
Brown girls, don't be afraid to stand out with a gorgeous red pout! There's something sexy, chic, and ultra feminine (not to mention empowering) about wearing a red lip with confidence. There are shades and pigments that work with every complexion, so don't think that "oh I'm too dark or too light to wear a red lip" because that is simply not TRUE. You just need to find the correct shade for you and the look that you are going for.
There are blue red lipsticks that make the teeth stand out in a bright, white way. The blue part just means that it's a richer red that tends to be on the cooler side of the spectrum, NOT that you will walk around with blue hued lips. A blue red shade works for all brown complexions, from the pale tans to the dark mochas. My favorite of this type of lipstick is Make Up For Ever's Blue Red 205. It is smooth, creamy, and highly pigmented. Here I am with that shade; brown girls can rock it well:
Thandie Newton has on a blue red lipstick and it looks gorgeous on her light tan complexion as well:
Kelly Rowland in a pinky blue red lip (see how bright her teeth look?) :
Another type of red that can be worn is an orange red. This will be more of a warm shade that compliments beautiful brown skin.
This is an orange red by Victoria's Secret called "Don't Stop". As well, here is Gabrielle Union with a lovely warm orange-red shade: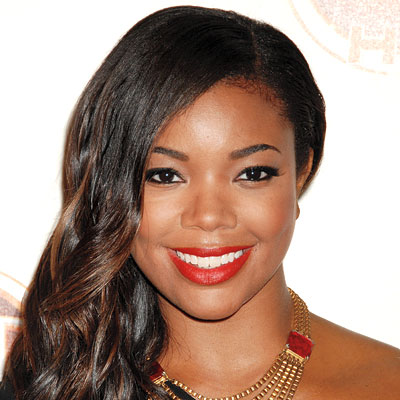 Sanaa Lathan with an orange red that makes her brown skin pop:
Beyonce is a lighter complexion and wears her orange-red WELL in this video:
Rosario Dawson in a great orange red variation:
Another shade that is GREAT for the fall are the burgundy/berry reds that are popular right now. Deeper brown skin tones can especially pull this shade off well, but medium and light brown complexions can get in on the action as well.
Jessica White with a gorgeous deep wine red lip:
Rihanna with a fierce dark red vampy lip
Model Chanel Iman in a ravishingly seductive deep red lip:
Alek Wek's dark skin GLOWING with a beautiful wine red lip:
For those who want to start small in the red lips experience, try a gloss with some color first. There is Berry Diva by Big Girl Cosmetics, Hottie by Victoria's Secret, and many other pigmented glosses that can be a subtle first step. Lip stains are also a way to get into wearing red lips, but be careful so that it doesn't look like you just had a big glass of Kool-aid and forgot to wipe your mouth afterwards, lol. I personally prefer lip glosses or lipsticks.
No matter your complexion, there is a red lip that will look downright gorgeous on you! Head to Sephora and try out some from different brands and amongst the many hues to find a suitable shade. Any brown girl from Alicia Keys creamy complexion to Alek Wek's cocoa complexion can feel confident, sexy, and all woman in a grown up red shade.
Have you been bold enough to wear a great red lip? What's your favorite red lipstick/gloss?
For more "You Can Hue It" posts, click here