This year has flown by! As 2011 rapidly approaches, it only feels right to bid adieu to 2010 with a "best of" list.
Bloggers/Vloggers:
Karen of Makeup and Beauty Blog: she has a super fun personality, great swatches, always updated blog, and makes sure to respond in the comments to people and interact. Love everything about the site!
Welcome to Makeup and Beauty Blog from Karen on Vimeo.
The Fancy Faced: "Hey Guys!" This perky makeup queen is beautiful and has awesome tutorials for vibrant, fun, glamorous looks that are easy to achieve.
Sabina the Makeup Addict: She has amazing looks of the day! Her eyeshadow techniques are beautiful and beg to be recreated. I love her style
Khadija Nassif of The Sojourner's Passport Can't get any more intelligent and straightforward than this lady! Amazing business advice and black women empowerment (living well) information. Amazing blog and fabulous book:
Nikki of Curly Nikki: This new mommy shows off her cutie pie Baby Gia while managing one of the most popular natural hair blogs on the internet. She's a powerhouse of product information, shows off style tutorials from readers, holds contests, and just seems like an all around great woman.
this fun young girl is ace at makeup tutorials! She's funny, talented, and a pleasure to watch. The tips and tricks seem easy once she breaks them down!
Nikole the Moptop Maven This girl's head of hair is something to be in awe of! Not only is she a natural hair guru, but she kills it with the makeup tips and fashion know-how. As well, recipes are shared and she just started her own jewelry line. This lady is making moves! She seems extremely sweet and well informed, definitely a must read blog.
Christelyn of Beyond Black and White Absolutely hilarious and down to earth, Chris is a fun woman and ace PR queen. The site is about interracial dating, living well, and the famous "No Wedding, No Womb" campaign to curtail the 70% + out of wedlock rate in the black "community".
Queen of Blending: talk about amazing makeup tutorials! She will have you looking like a star if you follow her tips and techniques.
Kandee Johnson: Hollywood makeup artist Kandee Johnson is so bubbly and easy to relate to. For extreme recreated looks such as halloween tutorials to become Edward Scissorhands, this woman is the guru for you!
Makeup:
NYX Mega Shine Lip glosses These high shine glosses are like liquid lipstick: heavily pigmented, creamy, with the shine of lip gloss. They smell like cherries! I'm fine with the scent, but those who don't care for scented lip items won't like these. The color pay off is amazing though and well worth snagging for a couple of bucks. They have a huge range of colors, from super pale almost white pink to dark berry reds.
Covergirl Lash Blast Mascara This mascara is a fabulous everyday mascara! It makes the lashes look flirty and separated, dark and defined. Comb on a couple of coats and you are ready to have people staring into your pretty peepers all day!
Wet n Wild Palettes: Now these are awesome! They are pigmented, smooth, easily able to blend and CHEAP!
Wet n Wild color icon blush: I was totally surprised at how well these showed up and made my cheeks glow! The one that I have is actually comparable to my Nars blushes and that's saying something!
Maybelline Falsies Mascara The Falsies is always touted as a beauty godsend and I have to agree, it's pretty fabulous! The curved brush helps to curl lashes, the inky formula adds super dark beauty to the lashes, and there seems to be nice volume and length created.
NYX Jumbo Pencils: These are GREAT as a base! Whether you use the lip ones or the eye ones, they come in a huge range of colors and can create just the canvas to add color on top of! The milk pencil (white, duh) is a beauty guru staple that makes colors pop on top of it and holds them there. I need every color!
Urban Decay Book of Shadows: There are many variations on the shadow kits that Urban Decay comes out with, such as the I <3 NYC one that I have and the lovely book of neutrals that took everyone by storm, the NAKED palette. The shadows are silky, amazing quality, highly pigmented while the books generally include their famous 24/7 glide on pencils and/or the hot ticket Primer Potion.
Revlon PhotoReady Foundation: This is the best drugstore foundation that I've ever come across! It photographs beautifully, wears lightly, and stays on all day while being easy to blend. My only gripe was the color choices. I had Cappucino for summer which showed beautifully on my more tan summer skin but then was WAY too orange for fall/winter but the next color down was Caramel which I generally am in every line but it was much too yellow even for me and I have yellow undertones.
Revlon PhotoReady Foundation (Cappucino)
NYX Candy Glitter Liners: These stay on and add perfect shimmer to any eyeshadow look. I am totally in love with them lately! So far I have the gold and silver, but there are other colors that will find their way into my arsenal :D
Maybelline Gel Liners: The black from this line of liners is so rich and creamy! It's easy to apply and rates up there with high end brands such as Bobbi Brown liners for a fraction of the cost.
MAC studio Sculpt foundation: Creamy, great coverage, easy to blend, MAC studio sculpt hides the flaws and imperfections of the skin and provides an almost flawless face.
Nail Polishes:
Sally Hansen Hidden Treasure: Sold out everywhere, this hot item of 2010 creates a beautiful foiled iridescent effect on the nails. You never know how it will look until you put it over a polish because the foils can appear to be gold, grey, or pink depending on what the base coat is! Check out images here.
OPI Burlesque: Sparkle glitter lovers rejoice! This set by OPI had lots of show girl fun for the inner burlesque diva wanting to shine through. Glitter can be a PAIN to get off, but the effects on the nails are well worth it, in my opinion!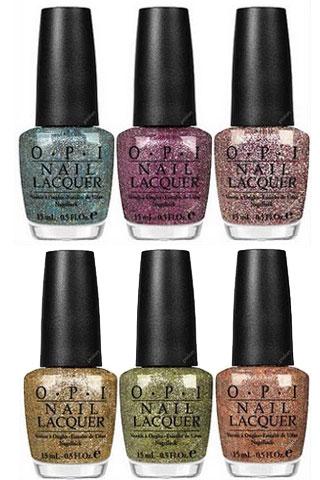 Sally Hansen Xtreme Wear: one coat is really all that you need of this vibrant, fast drying polish! Color me impressed with the wide range of hues as well as the super creamy formulas.
Hair Care:
Qhemet Biologics Amla and Olive Heavy Cream Moisturizer my holy grail moisturizer, this keeps my hair lush and well nourished, especially in Chicago's harsh winters. Love the stuff and always have it in my hair basket!
V05 Moisture Milks Passion fruit Smoothie Conditioner Great for making my curls become super defined, this is a lovely detangling shampoo and has good slip and a wonderful scent. Can't beat the 79 cent price either!
Olive Oil: Sealing natural hair is a must to keep moisture in, and this rich oil provides shiny locks that can grow happily.
Skincare:
Clarisonic Face Brush Nothing removes my makeup like a brush with this. I always think that I've washed away all foundation only to do the brush and have it come away brown. Good investment piece!
Korres Milk Proteins Foaming Cream Cleanser - gentle creamy cleanser that leaves my skin super soft and nourished. Works great in combo with the Clarisonic face brush. Read my review of it here: http://www.makeupandbeautyblog.com/skin-care/my-skin-is-thirsty-for-korres-milk-proteins-foaming-cream-cleanser/
Mahogany Skye Body Scrubs: The cocoa blueberry is divine! All of the scents are incredible and the feeling of silky skin afterwards is like no other.
Korres Thyme Honey Face Moisturizer $35 This makes my skin feel like lush soft silk and the SMELL is amazing, I could bathe in a vat of this stuff and then slather it on after that bath and be perfectly happy. I want to eat my face whenever I put it on, lol, it's such honey goodness!!
Best Youtube Videos:
There you have it, Socialites. The year 2010 in a nutshell of awesomeness! What products do you think were the best of 2010? What blogs? Youtubes? Share your opinions in the comments and I look forward to a great 2011 with you all! Thank you from the bottom of my heart for always checking out Socialite Dreams.
Follow Socialite Dreams on Bloglovin'| Follow on Twitter | Subscribe in a Feed | More Options