I have been jonesing for some red hair lately! I went to Ulta and had them do a red glaze to my hair, but with it being so dark, it pretty much laughed at the color attempt.
There's a slight tint in the finished photo above, but in real life I can't see any color change so I guess it only shows in a bright flash and really, how often will I be walking around with a spotlight shining on me to see the color? LOL, I'm only famous in my own head, so no constant flash photography.
These images inspire my red obsession:
WANT!!!!!
What I've decided to do is get red box braids later this fall, that way I can have a protective style in the cold weather AND sate my red obsession :D My hair is healthy and thriving even though I've been blow drying and flat ironing more lately, so I know that I'll want to give it a break from manipulation and heat. I was toying with the idea of dying my hair, but since I've already gotten the Brazilian Keratin AND been manipulating it more AND been using heat, I think that I'll leave well enough along before I wake up and find that my hair has fallen out.
Box braids it is! I can't wait to get some, hope that I can find some gorgeous rusty red hair extensions to get them done. I want the Brandy/Solange style: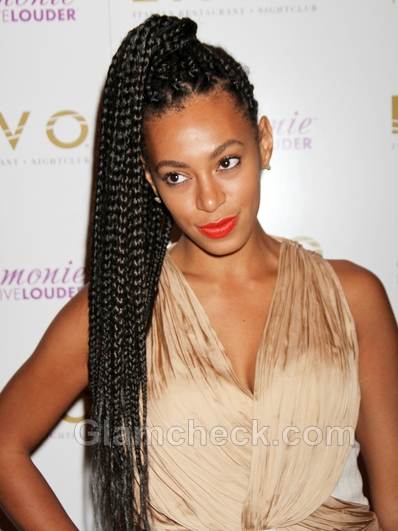 I am so excited, can't wait to get it done :) Do you have any hair obsessions? Any new hair plans for the fall, maybe a color or style change?
Follow Socialite Dreams on Bloglovin'| Subscribe in a Feed | Email Me