Tuesday, March 29, 2011 at 8:16AM
|
in
Beauty,
Policing Beauty
I've been thinking about the stifling boxes that we like to put each other in when it comes to everything from skin shades to hair stereotypes to weight to beauty. Why is it that we feel the need to police and bully people into conforming into ideals, placing our thought processes and internal baggage on them? I think that I will have a couple of posts on different aspects of beauty and get your thoughts. This one will focus on complexion while hair or weight will be next.
Take skin shade...this doesn't seem to be a major thing with white skinned ethnicities (to tan or not to tan seems to be the biggest question these days but please correct me if there is major pale/olive/tan wars going on as it would be interesting and add to the discussion), but people of color blow a gasket if there is any change to complexion and phrases like "self hate" start to be thrown with a quickness. Why is that? Yes yes, I know all about colonization and slavery, the effects on beauty ideals around the world, yada yada, but what if everyone isn't carrying around some baggage and just likes to switch things up? Let's take Beyonce:
She was crucified for the L'oreal ad that made her lighter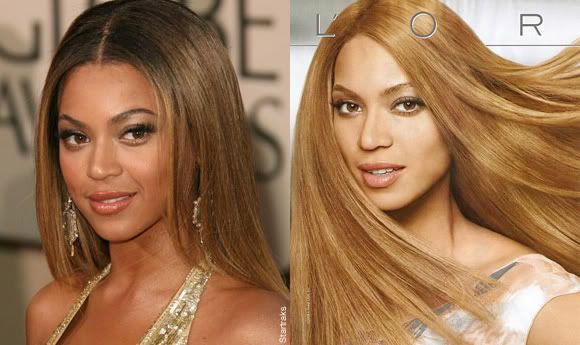 and just recently crucified for a shoot that made her darker
So in other words, stay the exact same shade or....else? Why is there such an immediate reaction against any alterations to complexion? She was accused of being white washed in one instance and then of wearing "black face" in the other. There doesn't seem that it was meant to be a mocking need to offend dark skinned women or even "self hate" against her usual complexion and instead was an artistic aesthetic decision (at least, in the darker skinned instance; the lighter one was done by the company and may have come from a desire to lighten for mass appeal). During "Dreamgirls" there is a scene where she is painted dark for the song "When I First Saw You" and I found her to be incredibly beautiful:
Would it have been just as beautiful a shoot with her normal complexion? Probably....but just like sometimes there is a need for a bold red lip and sometimes a need for a nude lip, why can't complexions be that fluid? No one deems it self hate if a white ethnicity wants to tan, but Beyonce is wrong for going darker for aesthetic reasons? And don't let someone try to go LIGHTER, that is for SURE a case of "you must hate yourself down to your core and are feeding into European beauty ideals". And sometimes it is, even when the person has subconsciously been indoctrinated with "light/white is right" as is often portrayed for women in black cultures, the Latin world, and Middle Eastern cultures. I understand that. There was a sad case on TLC's "Strange Addictions" where the black girl put on vats of bleaching cream all of the time to try and lighten her complexion, only felt that she could be pretty if she did so, hid under an umbrella if it was sunny outside, etc. And please peep the foolishness of this ad:
Use their product and go from a cafe au lait complected beauty to a blonde white woman? What the heck? We don't exist in a vacuum, so of course outside ideals and biases are presented to us daily, but what if someone isn't coming from a thought process of oppresion and instead covets the look of a specific person? For instance, what about families where there is say a dark haired medium toned mother and a blonde fair skinned child who likes to tan and dye her hair because she really wants to look like her mother? Is she experiencing some identity baggage? Or perhaps a mixed raced daughter who is more brown with brown hair who dyes her hair blonde to try and look more like her fair haired mother? Would that be self hate? Why isn't it an act of love and trying to emulate someone that you adore? What about if sometimes you just want to be darker and sometimes you want to be lighter? What if there is no deep thought behind it and it's just the look that you are feeling at that time? Sometimes people will put THEIR notions and baggage on someone else who had no intentions of such and some people just NEED something to be offended about (and can't even tell you WHY they are offended but damn it, they are OFFENDED).
Also, have we gotten so used to people trying to be lighter that it is baffling and outrageous if a woman of color likes to get darker? Beyonce has photos where she is very tan and she clearly doesn't mind getting much darker for photoshoots, so is it a case of people getting angry about it because, maybe even subconsciously, they can't fathom someone wanting to be dark skinned? I've seen her with a peaches and cream complexion to a much richer one, maybe she just likes and wants darker skin?
How much right does one have to speculate and police the behaviors/thoughts of others? How much thought should someone put into whether they are offending others with their aesthetic choices? Should historical baggage have any weight in your life NOW if you don't want it to? When does bodily autonomy become a given for women of color as it is for white women who can choose to tan or stay pale freely?
Discuss!
Follow Socialite Dreams on Bloglovin'| Follow on Twitter | Subscribe in a Feed | Email Me