Thursday, October 20, 2011 at 9:00AM
|
in
Beauty,
Makeup,
Villiains Series
I am super grateful to my partner in crime Tracy @ Beauty-Reflections for coming up with the idea to recreate the look of Mother Gothel from "Tangled" as I had no idea whom to go as this week. She looks like a pretty mix of Cher + LaToya Jackson so I was ALL over it as I love both of them :P I need to watch the movie; hope that I caught her look well enough! She seems super sexy and pretty, not all deranged like other villains so it was quite easy to get her vibe down (I hope!)
Inspiration pics:
my recreation:
Here's what Tracy had to say:
The Queen of Hearts is not your typical villain. I'm pretty sure this woman is insane and psychotic! One moment, she's content as a mouse, the next- hysterical and angrily screaming "Off with their heads!" One of the Queen's hobbies(besides ordering executions), is croquet, but it is of course Wonderland croquet, where the balls are live hedgehogs and the mallets are flamingoes. Deranged. I kind of think Lewis Carroll was on something when he wrote the book. Yeah, I know he was a deacon, but seriously, there's some weird shiznit in Alice's Adventures in Wonderland (which happens to be one of my favourite books). Bazinga! That explains some things about me I guess, right? :)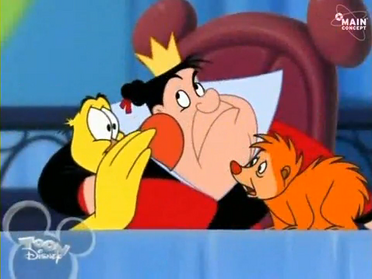 I actually have a Queen of Hearts Costume. I got it because of the flamingo. Don't judge me. Who wouldn't want a stuffed flamingo that's a croquet mallet, right?
thinking and plotting with my best croquet mallet about who to behead next? Not you?
Here's a close-up of my eye makeup, which was really simple. Just some red and black eyeshadow and some painted on hearts.
Stay tuned for next week!