Monday, May 16, 2011 at 9:17AM
|
in
Beauty,
Makeup,
Product Reviews
Finding a drugstore brand foundation that actually fits my skin tone is to truly find the holy grail. For women who are super pale or those of us who dare to have any melanin in our complexion, it can be a nightmare experience to color match our skintones and especially undertones.
I was in need of a color that would fit (no pun intended) my winter complexion that is a couple of shades lighter than the darker summer foundation that I already have in stock, so when I heard buzz about the Maybelline Fit Me foundation and saw that they had brown beauty Jessica White as the face of the campaign, I figured that it was something that I should definitely try out!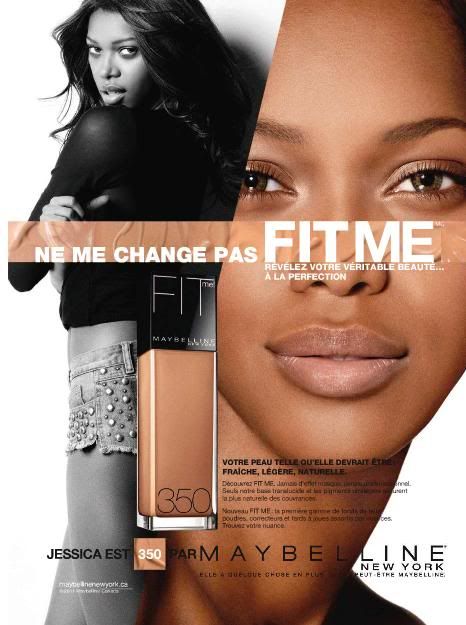 Target had a deal going where you could order free samples of the foundation online and they would send a shade card with all of the colors so that you could match your tone. I found out that I was a 320 and also was pleasantly surprised to see a $1 coupon for the Fit Me products along with the samples. Can't turn that down! Good price at $7.99 for a bottle of foundation, then the $1 coupon so I hurried out to buy a bottle.
Smart decision, readers! I've been using it as my everyday foundation and getting lots of compliments. There's no hideous ashy haze (even in photos), no orange undertone that presumably was made with an Oompa-loompa in mind, AND a good range of both light and dark tones. There are about 6 shades for brown girls, but the darkest one still wouldn't cover someone like some pretty chocolate toned girls that I know, so they are still out of luck. I am honestly surprised because when I heard that Jessica White was the face of the line, I just KNEW that they'd have chocolate colors...I'm baffled how chocolate Jessica came to wear that "coconut" shade. My little cousin is chocolate like Jessica and Naomi, none of them seem like they'd be able to wear that 355 (the darkest shade available) in real life and I wonder if they made Jessica fit the shade with lighting and whatnot.
I quite like the foundation and DEFINITELY like the price. It doesn't have full coverage, that is my only gripe, but it says that it's a lightweight foundation that "let's the real you breathe through" and shows your natural skin, so I wasn't expecting full coverage. I could always use some full though! It's great for the everyday and even photographs well, but I like my studio sculpt if I know that I'm taking lots of photos; that way my skin looks flawless versus natural.
Here's me with the Fit Me foundation in 320, honey beige:
Flash on camera
Natural Light
Have you used Maybelline Fit Me products? What did you think?
Follow Socialite Dreams on Bloglovin'| Follow on Twitter | Subscribe in a Feed | Email Me