Wednesday, October 6, 2010 at 4:04PM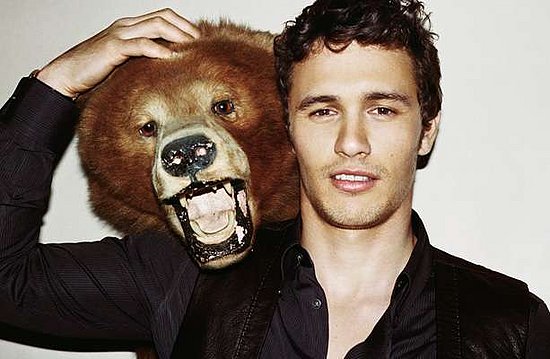 James Franco was supposed to be featured in today's Hump Day Hotties Post, but I decided to save him for next week. I love this man, in that he has an old school brooding beauty like James Dean but is all modern in his sense of humor and ease with his portrayal of sexuality. He wasn't afraid to be a gay man in "Milk" or do a HILARIOUS skit for the Oscars spoofing his Pineapple Express character about to have some high good times with his costar. I love a man like that, who's in tune with himself and not hung up about things like being a straight man who portrays someone gay for acting.
Anyway, I am bringing him up because I saw a feature at Fashionindie.com where he teamed with crazy photographer Terry Richardson to shoot a spread for Candy Magazine. He just seems so funny and cool to hang with, I wish that I could have done his makeup for the shoot :P I heart you James Franco!
His spread for Candy Magazine (Lol, why so 80s with the makeup? He'd totally fit in with the Golden Girls or Dynasty, lol)