Monday, July 16, 2012 at 10:00AM
|
in
Beauty,
Book Reviews,
Hair
What a simple yet completely fabulous philosophy to hair: If you love it (therefore nurture it, research some of the best products for your hair type, pamper it, treat it at least as well as you would an expensive silk blouse) then it will grow.
Dr. Phoenyx Austin has written an easy to understand book full of anecdotal stories mixed with researched information that can help anyone learn the holistic approach that best helps hair to grow to its full potential.
She starts off with her own personal hair journey which had its twists and turns as most women experience: loving it, hating it, having to go through hours of trying to change/"fix" it, envying other women's hair. Eventually, she had an "a-ha" moment following a bit of a breakdown in Jamaica when she realized that she was becoming a prisoner to her hair after not even wanting to frolick on the beach and have FUN because her hair could get wet that led to her chopping off the relaxed bits and embracing her natural curl.
The book is broken down into short chapters that detail chemical compounds that can help/hinder hair growth, how nutrition plays a role in growth/health, knowing the difference between the types of hair products, deciphering your individual curl pattern, the structure of natural hair, and much much more. What's totally cool is that each chapter has "take home points" at the end which summarizes the main points of the chapter; that way you can always refer back quickly to whatever you need to know.
I think that the most helpful chapters were the sections on nutrition (because you are what you eat and it can all affect your skin/hair/nails) and the heat damage chapters (you can't just fry your hair over and over, breaking down the protein bonds, and wonder why its breaking and damaged). Many women overlook these absolutely VITAL points and then become frustrated when their hair isn't thriving and long.
There are cycles to hair growth that many would find interesting as well because most things aren't widely known to many women and the information in the book certainly helps to educate in a friendly way. Wonder how weaves/extensions affect the hair? Want to know why you are suffering from dandruff and hair loss? Curious on the vitamins and oils needed to get lush locks? Well this read was helpful in that for me, I found myself taking lots of notes!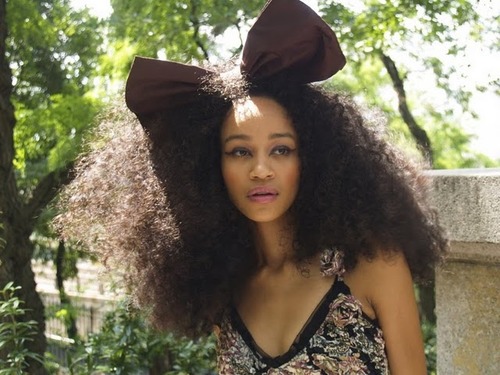 What's great is that Dr. Austin didn't use terminology that seems too hard to grasp, prefering a conversational and easily understood way of writing. Check it out if you want to grow out an amazing head of hair!
Buy it here: Amazon, Barnes & Noble and iTunes
Dr. Phoenyx Austin is a physician, author and media personality. You can find her on DrPhoenyx.com, Facebook and Twitter.