Monday, November 22, 2010 at 11:13AM
|
in
Beauty,
Entertainment,
Fashion,
Hair,
Makeup
So I pretty much FAILED at the whole question of the day thing, opting to instead do my own posts and forgetting about answering the days question. Here's what I would have answered days 7-21:
Day 07 — Your Favorite animal
I guess kittens, they are super cute and fun. I saved a pretty black kitty from the park one day when I took my baby cousin out to play and since then I've wanted a black kitty with big blue or green eyes (couldn't keep that one as my mom doesn't want any pets in the house).
Day 08 — A photo that makes you laugh
My brother is hilarious and came into my room one day, noticed my new wig and decided to put it on. I died laughing, sexy huh?

Day 09 — Your favorite pair of shoes
My favorite shoes that I own are velvet Asos flats with jewels on the toe. So comfy and beautiful:
Day 10 — Current fashion/style you like
Ladylike glamour of the 50s and 60s seems to have a hold on me right now, at least to look at. I've been going through images and movies from then such as Marilyn Monroe movies and Diana Ross & the Supremes videos.
Day 11 — Bag you want to have
Coach Madison Patent Sophia Satchel. This bag is gorgeous and perfect.
Day 12 — Your Favorite color
Day 13 — Photo of your fashion/style icon

Day 14 — Photo of a hairstyle/haircut you'd like to have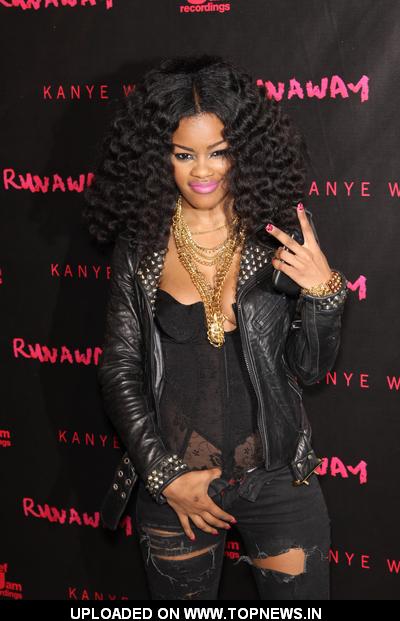 Day 15 — Photo of your favorite bracelet
This beauty by Swarovski!

Day 16 — Music you like
60s Motown and 80s Michael Jackson
My World is Empty Without You - The Supremes

Day 17 — Fashion Pieces that's on your to-buy list
Some knee or thigh high boots that can fit these thick calves of mine!

Day 18 — Your favorite beauty guru
I really like Makeup Addict, the Makeup Republic on Youtube as well as Vivid Fusion and The Fancy Faced

Day 19 — Your favorite look from a beauty guru
This look by the Makeup Addict. It's so very pretty and perfect!

Day 20 — Your favorite mascara
Covergirl Lash Blast is my go to these days. I want to try the shimmery luxe ones, but I doubt they'll have enough shimmer to show up. Any suggestions for a shimmering mascara?

Day 21 — Your favorite lip stick
Make Up For Ever! They are so rich and pigmented, I love them. And they last on the lips for a long time. The Blue Red is my favorite and garners lots of compliments! I'll always love a good red lip
Answer some of the questions yourself in the comments; I'd love to know your replies!
Follow Socialite Dreams on Bloglovin'| Follow on Twitter | Subscribe in a Feed | More Options